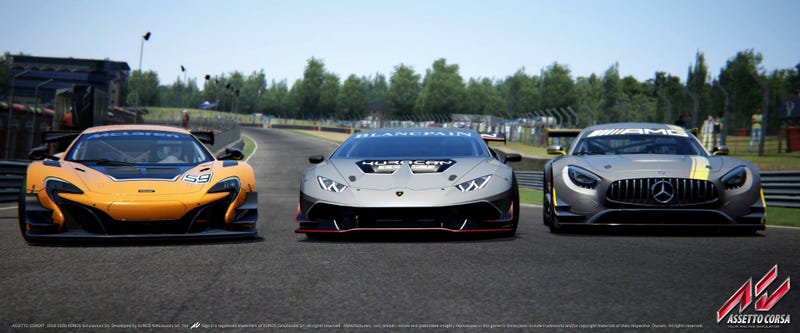 For those not in the know, the latest DLC from Kunos brings us the following:
Track
Brands Hatch Circuit, West Kingsdown, England
Cars
Abarth 500 Assetto Corsa
Ford Escort (Mk.1) RS 1600
Lamborghini Gallardo (LP570-4) Superleggera
Lamborghihi Huracan SuperTrofeo
Lotus 25 (1963)
Lotus 72D-Cosworth
McLaren 650S GT3
Mercedes-Benz AMG GT3
Assetto Corsa v1.4 will also be releasing alongside the DLC today.
I am excite. A lot of these cars (Mk1 Escort, Lotus 25 Climax, Lotus 72D) are already in Project CARS so I'll have a baseline to compare to in some degree (I know they're different engines, but still). All eyes are on the 72D and SuperTrofeo cars (for me at least) as the aero and power makes the Lotus such a joy to drive but the suspension model is pretty complex (1960s era anti-drive and anti-squat design) as well as the Huracan, as the new patches actually make AWD diffs work properly and anything is an improvement coming from the terrible driving Huracan GT3. Others (Huracan, AMG GT3) are WIP projects for SMS so I'm looking forward to comparing them to the Assetto Corsa versions later in 2016.
There is, at the time of writing this post, no information on what game changes are being made in the accompanying patch but there have been going through AC revisions pretty rapidly. Assetto Corsa's Dream Pack 3 will be dropping on December 15, 2015 for 7.99 Euros (~$9 USD, ~$12 CAD) and can be purchased from the Steam storefront: http://store.steampowered.com/app/244210/
Will be posting videos tomorrow after I record them.