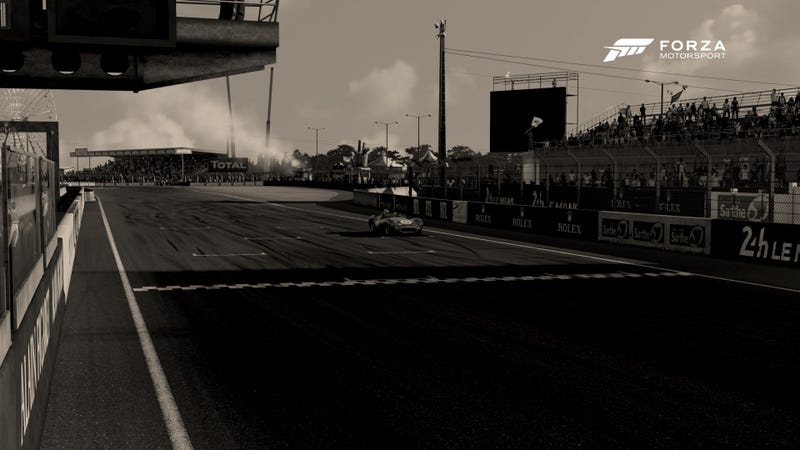 This is the continuation of the Classic Roadsters series Club Oppo was running in Forza Motorsport 4. The rules have been slightly changed for Forza Motorsport 6 for the remaining races.

---
Car Rules and Specifications:
All of the cars in this series are therefore open top sports cars/roadsters that ran or were in the style of those that ran in the 24 Hours of Le Mans and World Sportscar Championship around the 50s/early 60s.
This race series will use the balance of performance rules, with the cars starting at A650 and being adjusted per race from there. You have a lot of leeway regarding power upgrades. However, engine swaps and drivetrain conversions are not allowed, and aspiration conversions are requested to be used as a last resort. Suspension and handling upgrades as well as tire choices are also open, but please do not go overboard with power upgrades and little in the way of handling upgrades. Gearboxes must be sport transmissions or an equivalent minimum (final drive must be adjustable), but race transmissions are allowed. I am going for strict aesthetics for some parts of this series, so there are restrictions for body/aero and rims. All rims must be stock. General body rules are that no aero is allowed, and cars with removable bumpers must remove them. Others must have certain parts added. All specific body restrictions will be mentioned in the cars list. Classic livery is encouraged, but feel free to be artistic and paint anything.
---
The following is a list of the cars that can be used in the series along with their prices. I'm carrying most of this list and its descriptions over from Forza 4, but I don't know if all of them still have the same body parts options, since I haven't been able to buy/test all of them. However, the aforementioned body modification rules still apply.
1958 Aston Martin DBR1 - 1,900,000 CR
All body parts must be stock.
---
1953 Chevrolet Corvette C1 - 210,000 CR
Front: remove front bumper
Rear wing: street rear wing
Rear bumper: remove rear bumper
Hood: Chevrolet street hood
---
1960 Chevrolet Corvette C1 - 87,000 CR
Front: stock
Rear bumper: remove rear bumper
Hood: stock
---
1957 Ferrari 250 Testa Rossa - 1,900,000 CR
All body parts must be stock.
---
1953 Ferrari 500 Mondial - 1,000,000 CR
*unknown*
---
1956 Jaguar D-Type - 1,500,000 CR
All body parts must be stock.
---
1954 Jaguar XK120 SE - 140,000 CR
Front: remove front bumper
Rear wing: stock
Rear bumper: remove rear bumper
Hood: Use whatever you want, but that leather belt thing is pretty snazzy, in my opinion...
---
1956 Lotus Eleven - 140,000 CR
All body parts must be stock.
---
1957 Maserati 300 S - 1,000,000 CR
All body parts must be stock.
---
1961 Maserati Tipo 61 Birdcage - 1,500,00 CR
*unknown*
---
1955 Mercedes-Benz 300 SLR - 1,900,000 CR
All body parts must be stock.
---
1965 Shelby Cobra 427 S/C - 900,000 CR
All body parts must be stock.
---
Balance-of-Performance Adjustments
For the BoP rules, you will build up your car to a default value of A650. I will post a lap time approximately a week prior to the race, and you must adjust your PI so that you meet (but not exceed) this lap time. Also, I understand that sometimes you can pull out better lap times in the online race. However, any time deemed excessive will be penalized.
I would also like to add a caveat to this section of the post: BoP adjustments should only be used as a last resort and are not a substitute for practice. I know the point of this series is to give everyone regardless of skill level a chance to win but it's not fair to the drivers who put in the time to practice and to actually learn the track to have someone who spent less than ten minutes testing during the week show up and blow their doors off with a huge power handicap. One person in particular last year did this repeatedly and always ended up lapping two or three seconds faster than the rest of the field because they'd figure out the track halfway through the race. Other racers got really vocal about this towards the end of the season so I'm going to be a lot more strict about lap times this time around.
I encourage you to put in the time to practice around tracks and learn more about your car and tuning.
Please also be warned that some of these cars may have PI ceilings and floors (basing this off previous testing experience in Forza 4).
---
Race Info:
Time:
- The lobby will open at 4pm EST on Saturday and races will begin no later than 4:30. Races will again last around 45min-1hr depending on what track we're at that week.
Assists and Damage/Tuning:
- Assists are allowed but you are encouraged to use them sparingly. You can actually gain a lot more out of your car by turning off electronic assists.
- Damage and fuel and tire wear will be set to cosmetic only. Please avoid contact at all costs regardless.
- Tuning is allowed and encouraged; we'd prefer you spend time tweaking your car instead of being lazy and just throwing BoP upgrades at it. Also, it might seem obvious since this is partially a spec series, but storefront tunes are forbidden.
Grid Ordering:
- Grid order is randomized for every race.
Scoring:
- This will be a points-based championship series continuing from the series in Forza 4 (but don't let that stop you from joining late if you haven't before!). Although there are 24 available slots per lobby now, the scoring system will still be 16-based on account of staying fair to those who have already been participating, and I doubt there will be more than 16 attending the races this late in the series. Scoring is as follows: 16pts for 1st, 15pts for 2nd, 14pts for 3rd, 13pts for 4th, and so on, with 16th receiving 1pt. In the event we don't have a full lobby racers we will score to the lowest position (e.g., 12 people so last place gets 5pts). DNF's will be counted as your final finishing position so if you get disconnected or have to leave suddenly you'll still get some points just for showing up.
- I will post current standings/results as soon as possible after each race.
---
Race Schedule (still tentative):
The following are the remaining races of the series:
11/14: Bernese Alps Club Reverse, Lauterbrunnen, Switzerland
12/5: Hockenheimring Full, Hockenheim, Germany
12/??: Nurburgring Nordschliefe, Nurburg, Germany
---
Miscellaneous
- Anyone entering the series needs to message me and send me a friend invite (XBL: RoboRedMdn1te) if you're not on my friends list already. It'll be a little more difficult to manage things this time around since clubs no longer exist, so your cooperation with this would be appreciated.

- Everyone is expected to follow proper racing etiquette. However, you're going to have to be OK with the fact that contact will happen no matter how hard we all try to avoid it. Having the cars be as fair as they are means you'll constantly be in traffic and battling for position and a bit of rubbing will be inevitable, as will more serious incidents. There will be races where you'll get knocked off track or spun out by no fault of your own (fkin floaty car lag...) and you'll end up finishing in the back of the pack that week; anyone who's raced online will know that's just a part of the game and these series will be no exception.
- This aside, there's a very fine line between incidental contact (tapping someone's rear bumper under braking, running a bit wide through corners, etc.) and aggressive and dangerous driving (divebombing corners, running people off the road, deliberate contact, etc.). Please refrain from any of this behavior.
- All relevant information (including pre-race, post-race, and other miscellaneous posts) will be posted here on Digital Burnouts and Oppo and tagged 'Forza 6'. I will try to get all post race info posted as soon as possible and I'll do my best to address any questions, comments, or concerns.
Good luck, have fun, and we'll see you out on the track.
---
CURRENT ROSTER:

RoboRed (RoboRedMdn1te)
TheHondaBro (WWaveForm)
Corey CC97 (Corey CC97)
SVTyler (mackleroy45)
TheCowmaster (TheCowmaster934)
Tareim (Tareim)
IdDaVo (FearlessTwift)
fourvalleys (howdy there)
SmoresTM (AuxiliaryTone)
Rainbow (GoatBird)
flyboyJRK (flyboyJRK)
Admiral-cb (admiralCB)
Chris_K_F (MyName1sNobody)