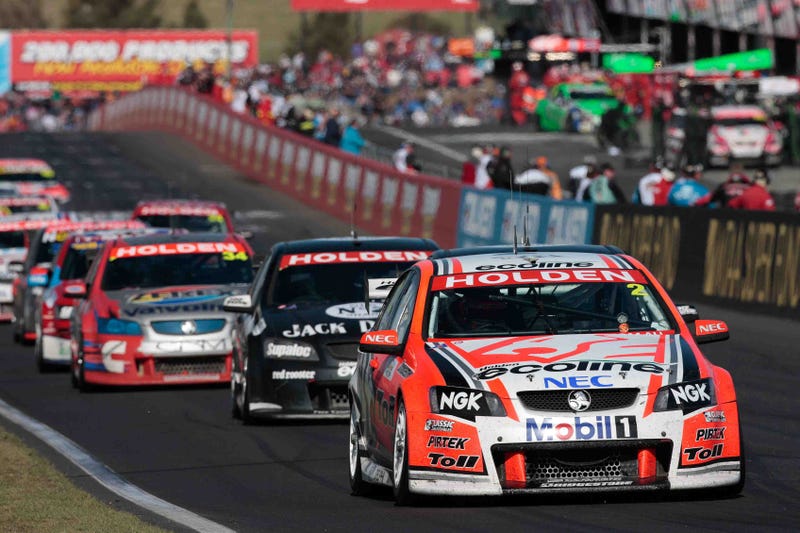 Through our time racing in Forza 4 and now Forza 6, we've done an impressive number of racing series. We've raced sports cars, classic roadsters, Trans Am cars, and touring cars. One of the ideas that's been thrown about many times has been V8 Supercars. Not too long ago, I proposed that we run it as a series. The response was positive. So, this post contains the series details, such as eligible cars, rules, and the schedule.

Cars, build, and livery rules:

All the V8 Supercars cost 600,000 CR.
Ford:
#5 Pepsi Max Crew PRA Falcon FG X
#17 Xbox Racing Ford Falcon FG X
Holden:

#14 Freightliner Racing VF Commodore

#97 Tekno Autosports VF Commodore
#1 Red Bull Racing Australia VF Commodore
#22 Holden Racing Team VF Commodore
Mercedes-Benz

#4 Erebus Motorsport E63 AMG V8 Supercar
#9 Erebus Motorsport E63 AMG V8 Supercar
Nissan:

#23 Nissan Motorsport Altima
Volvo:

#33 Wilson Security Racing GRM S60
Builds: All cars will be run with race brakes. Tuning is allowed and highly encouraged. No storefront tunes will be allowed. Wheels that do not alter the weight or PI of the car are legal.

Liveries: You are highly encouraged to make your own livery or use one off the storefront. However, you must run with a number visible on your car's hood, left and right side, and rear bumper. You can also run your car in a different manufacturer livery if you want, so for example you could run an AF Corse Ferrari while driving the Mercedes E63 AMG. Or you could run a country ball livery. I don't care so long as the numbers are posted and the livery adheres by the Microsoft/Forza terms of use.

Schedule:

One race will be run per month. Starting in May and ending with the finale in October. The races will be held on Saturdays and begin at 4:00 PM EST.

Forza 6 only has three race tracks that V8 Supercars have visited. As such, two of those tracks are included, and the rest of the tracks are close to what I envision would be good alternatives for the mixture of street and road courses that V8 Supercars runs. Why have I only chosen two of the three tracks V8 Supercars has attended? Because the third is Yas Marina and fuck Yas Marina that's why.

The races will all take place during the day unless there is overwhelming demand for a night or rain race.

In addition, there will be a mixture of sprint and endurance events, also similar to V8 Supercars. Sprints will be about 45 minutes long and the endurance events will be 90 minutes long. Two races will be comprised of two twenty minute heats with a couple minute break in between.

May: Circuit of the Americas West Route (sprint)

June: Long Beach Full Circuit (two heat sprint)

July: Virginia International Raceway (endurance) *In the event not enough people have VIR, we will race somewhere else*

August: Circuit de Spa-Francorchamps (sprint)

September: Rio de Janeiro National Circuit (two heat sprint)

October: Mount Panorama Bathurst Circuit (endurance)

Race Day Information:

Assists: Allowed, but you're encouraged to challenge yourself. With some assists turned off you can gain a few seconds a lap.

Damage: Damage, as well as fuel and tire wear will be set to cosmetic.

Race Behavior: Proper driver etiquette is required. Anyone found to or believed to be intentionally crashing opponents will be penalized by loss of finishing position and/or points.

Communication: We will utilize teamspeak, because it's worked really well so far. In the event you do not have access to teamspeak, you will still be allowed to race, but you are expected to be extra caution in and around traffic.

Starting grid order: Random. Events with two heats will utilize random grids for the second race as well.

Rolling starts: Because of the nature of the V8 Supercars, we will utilize rolling starts. Please read the driver etiquette thread for more information. You were going to read that, right? Also, information for where the green flag will drop on each track will be posted in the pre-race posts.

Points System: Scoring is as follows: 24pts for 1st, 23pts for 2nd, 22pts for 3rd, 21pts for 4th, and so on, with 24th receiving 1pt. In the event we don't have a full lobby racers we will score to the lowest position (e.g., 8 people so last place gets 16pts). DNF's will be counted as your final finishing position so if you get disconnected or have to leave suddenly you'll still get some points just for showing up.
In additon to your personal points, manufacturer points will also be awarded.

Event Information: Any information regarding up coming events will be posted to Digital Burnouts and shared to Oppositelock. These posts will be tagged as Forza6V8SC.

Event Recap: I will post current standings/results as soon as possible after each race.

Entry List:

An entry list can be found here. I will update it to include points standings after each race.

Miscellaneous

If you wish to enter the series, please post in this thread and include your Xbox Live Gamertag. Also, please specify what manufacturer you're going to use. If you have any questions, feel free to ask on here, or message me on Xbox Live. My gamertag is JA 37 Viggen.

In the event that I cannot attend a race, is there someone who has experience with these sorts of events from our past series who could host in my place? In fact, if worst comes to worst, is there someone who's willing to host the events even if I'm there? I'd hate for my connection to pull a Daytona or Watkins Glen on everybody.

Also, thanks to RoboRed for letting me use his V8 Supercars draft write up for ideas.

In closing, good luck and hope to see you on race day!