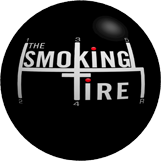 Yep, thats right racers. Matt Farah from The Smoking Tire has agreed to pitch in for the year end prize pool for our little ol' series.

More info about the series here.

To head off any questions, NO YOU'RE STILL NOT GETTING RICH. Now that I've broken your dreams of quitting your day job and racing on Xbox for a living, you can expect something along the lines of a TST Shirt, which is still a pretty cool prize when you take into consideration their merch is baller.

So in addition to the PurX Spec logo on your car you will also need to rock one of the two "The Smoking Tire" logos that you can find by searching Chewbakkah in the paint editor. (If you're a painter extraordinaire and can make a better one let me know)

If you live in a hole, or don't follow the auto journalism scene, I highly encourage you to check out The Smoking Tire. And not just because they're being bros and nice and all. They've actually got a lot (like a ton) of really cool content, most of it for FREE. You can check them out at the links below.

Website: www.thesmokingtire.com
YouTube: www.youtube.com/thesmokingtire
Podcast: www.shoutengine.com/thesmokingtire (for sure worth the listen)
Vimeo: www.vimeo.com/thesmokingtire (2 feature length films)
Hulu: www.hulu.com/the-smoking-tire

You can also follow them on:
Facebook
Twitter
Instagram