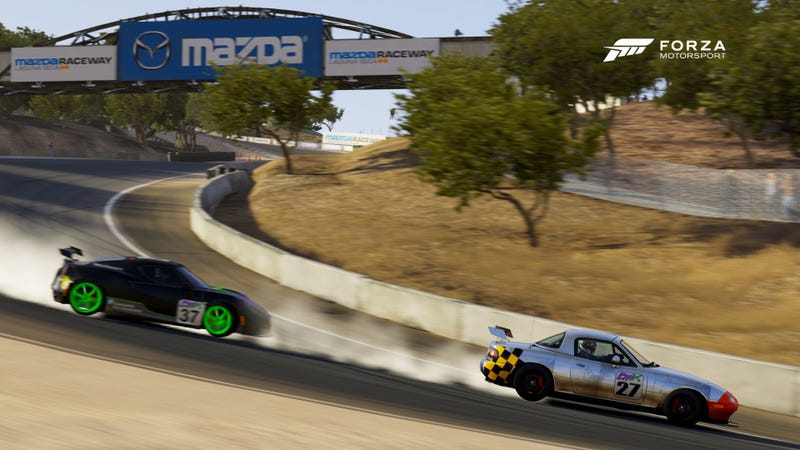 LESS PRACTICING, MORE RACING, POS Racing Series
Come, sit, let's have a talk.
Actually, just go put your info on this spreadsheet. Then get to reading.

To appease more people, and frankly just to have something to do on a week night, PurXgaiming.com (my shitty corner of the internet) is going to be sponsoring not one, but two racing series for the rest of the year. One on Tuesday, one on Wednesday. Now I know you're thinking "Chewy, what do you mean 'sponsoring'? Our races don't need sponsors." While you're entirely right, don't you think it would be fun to have a trophy or monetary prize for your hard earned points at the end of the year? We (me and goat) think it would add just a wee little bit of interest to our series so we're gonna do it and you can't stop us. Well I guess you could rally everyone to not participate, but then winning my own prize with just Goat to beat wouldn't be too much fun. Anyways... Check out the info below about both series.

TLDR: 2 SPEC Series, Prizes awarded at the end of the year.

Both Series:
• Points structured to give places 1-4 a very slight bump. This is intended to give a racer consistently in the top spots a chance to compete even if they miss a race here and there.
• The series will last until the end of the year. Its a marathon, not a sprint. We may take a few weeks here and there between legs of the marathon, but there will be plenty of races. Plenty of chances to win. Plenty of points to rack up.
• SPEC series. This means set upgrades + tuning. This means close racing.
• Races will be targeted at the 45 minute length.
• Races start at 9PM CST. NO JOKE, WE'RE NOT STARTING RACES LATE.
• TeamSpeak3 is required.
• If your connection can handle it, you are encouraged to stream your race.
• The PurX SPEC logo and PurX SPEC Number Plate are required parts of your livery. You can find both of them by searching "i race goats" in the add vinyl screen. If you ask nicely he may even do a custom color to match your paint jobs.
• Most of us have the season pass and the Porsche pack. We will be using both in the series. If you don't have it don't let that keep you from signing up. Maybe you miss a race, maybe we figure something out. Let us know if you have the DLC in the participant info spreadsheet.
• Both series will have team points and individual points. You do not have to have a teammate to participate.
• Most importantly, even though there is a prize at the end of the season please realize that this prize will in no way make you rich. Even for a poor college student. We are racing for fun, plain and simple.

Tuesday Series:
• First race is 4/5/2016. Races are every other week.
• Starting grid will be ordered in reverse "leg points." This means that if you're first in the point standings then you're starting in DEAD LAST. Good luck! I've worked out a system to allow us to do this. More to be explained later.
• Since this series is every other week, there is a bonus competition for it. Paint your car! A photo will be taken of it on the starting line each race. This will be included in a post for the public to vote for the best livery. This post will be cross posted on Oppo and on Digital Racing. There will be a prize for the most voted artist at the end of the season.
• We will race a different car every race. You will see FF, FR, MR, RR, AWD, the world. I can show you the world. Shining, shimmering, splendid.
• Detailed build info will be posted before the race in time to practice. If you want to know what we're racing on our first leg you can see that info here.

Wednesday Series:
• First race is 4/6/16. Races are EVERY WEEK.
• First leg (10 races) will be raced in the 1994 Mazda MX-5. American Tracks.
• Races are 2 heats. 1st heat grid ordering decided by 5(ish) minute qualifying ghost race. 2nd heat race grid ordering decided by lobby points. (This includes points from the ghost race.)
• 2 minute intermission between heat races. This will give you a chance to tune your car. Be warned, if you leave the lobby you lose your lobby points. Do not pass go, do not collect $200, START IN THE BACK.
• Heat races give people that drop connection or show up late a chance to still race heat number 2. (you know who you are)
• Detailed build info will be posted before the race in time to practice. If you want to know what we're racing on our first leg you can see that info here.

If I think of anything else I'll let you know. For now, get your info on the spreadsheet, maybe do some practice laps, maybe don't. But for sure get your teamspeak working. I can help you if you need it.