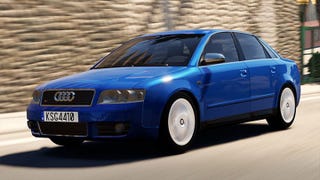 While we ogle at the car list of Forza Horizon 2, let us be reminded of the traffic NPCs (non-playable cars) that roam the roads of Southern Europe. Some cars were brought over from the Forza 4, majority of them are what we wanted to drive. Here they are!
1992 Alfa Romeo 155 Q4 [167]
2009 Alfa Romeo Brera Italia Independent [939]
2004 Audi S4 B6 [Typ 8E]
2010 Fiat Punto Evo Sport [199]
2009 Ford Fiesta Zetec S MkVI
2011 Ford Ka MkII
2011 Ford Transit 2.2 TDCi MkVI [V347/8]
(A nice use of recycling the Transit SuperSportsVan)
2011 Kia Cee'd 3 1.6
Piaggio Vespa*
2009 Honda SH*
Mercedes-Benz [NG]*
2009 Mercedes-Benz A 200 Turbo [W169]
2004 Mercedes-Benz C 32 AMG [W203]
2012 Setra S415*
2005 Subaru Legacy B4 2.0 GT Series IV [BL]
2003 Volkswagen Bora V6 [Typ 1J]
2011 Volkswagen Fox 1.4 [Typ 5Z1]
1998 Volkswagen Golf GTI VR6 III [Typ 1H]
2008 Toyota Yaris S Mk.II [P90]
What do think? Did Playground Games choose the right cars?
Photos and info: IGCD.net